The Lowest Prices, The Best Quality, Guaranteed…that's been the Sportsman's Guide philosophy since 1976. Hunting gear, ammo and shooting supplies, military surplus, survival gear, fishing gear, camping supplies, ammunition and much more…it's all here at SportsmansGuide.com, for less than anywhere else. Over 200,000 deals, shipped fast, with unparalleled customer service and 100% satisfaction guaranteed! Every day.
Eureka!® Titan 8 - Person Tent
Eureka!® Titan Tent. Nearly vertical walls maximize the interior space of this 2 room, 8 Person Tent. With over 128 sq. ft. of space inside this popular luxury Family Tent, you can use the Titan's removable divider to give your kids a room of their own! 6 extra large windows turn the slightest breeze into cross ventilated comfort while protecting you from splashing rain.
$649.99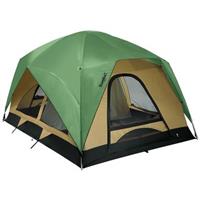 Sportsmansguide