MacGameStore is a leading Mac-only distributor of digital downloadable games, with over one million sold. They provide the best shopping experience that Mac gamers deserve with hot new selections every day.
Empire: Total War - Gold Edition
An epic game of real-time tactics which combines turn-based empire building with massive 3D real-time battles on land and at sea. Charged with the fortunes of a nation, you must use diplomacy, trade and military force to establish it as the dominant power of the 18th Century.
$ 39.99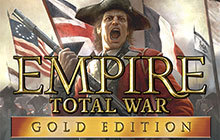 Macgamestore