More than a century ago, James Cash Penney founded our company as an active and responsible member of the community and earned a special place in the hearts of American families. Today, as we invest in the future of our business, we are committed to building on our proud legacy of responsible corporate citizenship by advancing social, environmental and ethical standards across our operations.
Raleigh Kitchen Server
The Raleigh kitchen server showcases traditional design in cherry and antique black finishes. It's an attractive place to keep things close at hand, but out of sight.
$ 1,335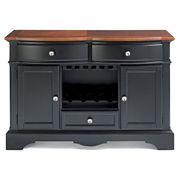 Jcpenney