The CRC journey began in 1984 as a small family business in Northern Ireland, serving and supporting local cyclists. It's been an incredible ride so far, with the company growing to a collective of over 450 cyclists, swimmers, runners and passionate professionals supporting a global community of cycle and multisport athletes.
Ghost Riot LT 8 LC Suspension Bike 2015
MORE TRAVEL. MORE RIOT! Expect more RIOT! On the ascent, the new RIOT LT combines perfectly efficient and straightforward propulsion, lateral stiffness and outstanding traction – guaranteed by the patent-pending RIOT.
25964.00 NOK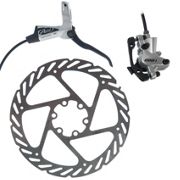 Chainreactioncycles